Columb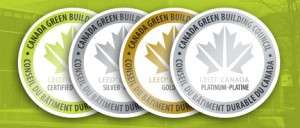 ia Glazing Systems supports sustainability by reducing the company's environmental footprint through the recycling of raw materials, eliminating over-packaging, lean manufacturing techniques, and by supplying energy efficient products that exceed modern green building requirements and help to contribute towards LEED™ certification.
Building Green at Van Dusen
In 2011 Columbia supplied curtain wall and skylight glazing systems for the Van Dusen Botanical Gardens Visitor Center project. The building achieved LEED™  platinum certification and was designed to meet the Living Building Challenge, the most rigorous set of requirements for sustainability. 
Gold Seal Project Award
In 2010 The Gold Seal Project Award of Recognition was presented to Columbia Glazing Systems by the Canadian Construction Association in recognition of the Engineering and Management Building of UBC Okanagan as a Gold Seal Project, and for the support of "Construction Management Excellence" and the Canadian Construction Association.
Locally sourced raw materials
Columbia has built a localized network of suppliers that supports neighbouring business and reduces the company's carbon footprint with smaller transportation distances